Designer shares show home secrets as new Tulloch show home opens
31st October 2023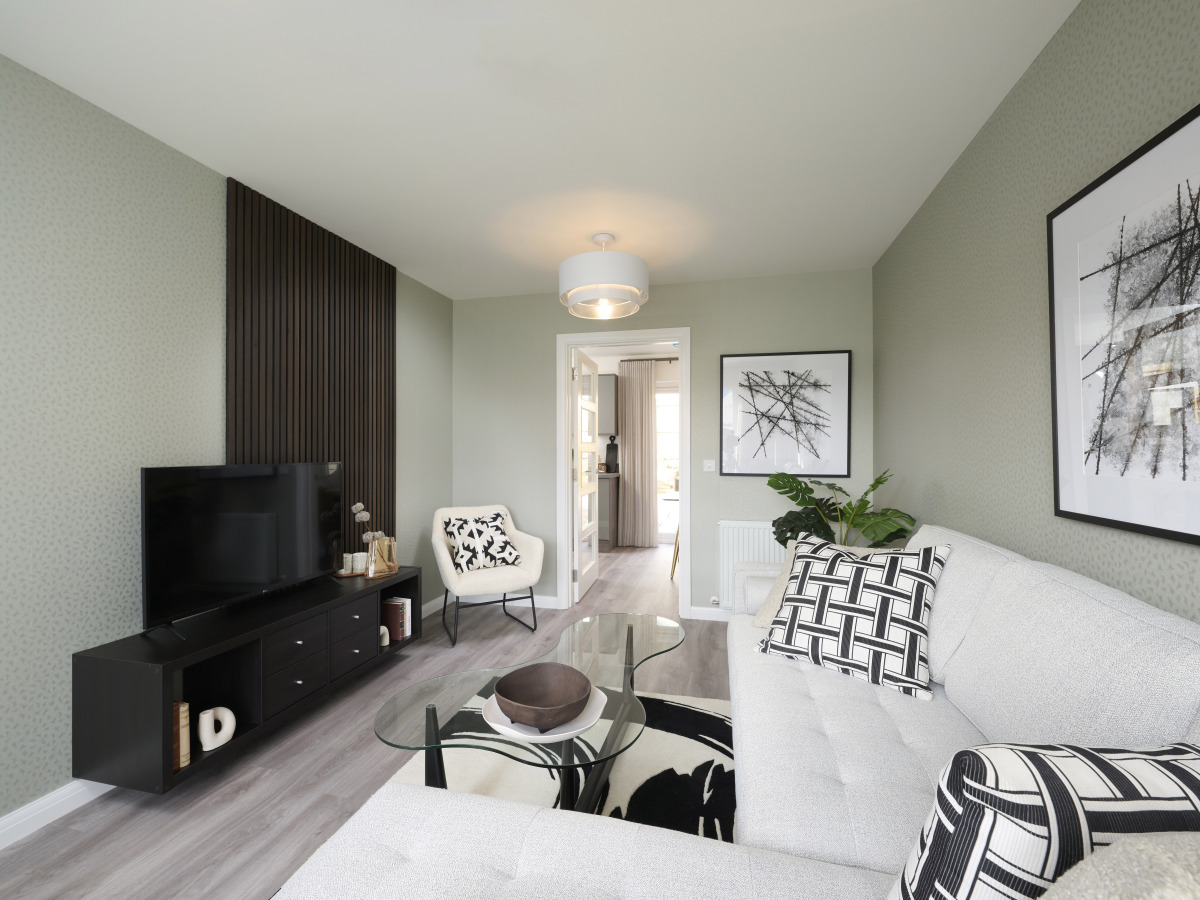 Interior design expert Eileen Kesson, the visionary behind the new Elder show home at Tulloch Homes' Bynack More development in Aviemore, shares her secrets on how to make a home show home ready.
With their bright open spaces, fabulous furnishings, and coordinating colour schemes, show homes offer prospective buyers a glimpse of the possible. They're also the dream that homeowners aspire to but may struggle to achieve without the know-how.
Eileen Kesson, design director of Envision Interior Design, a leading innovator in show home design, works with developers across the UK to create inspirational show home interiors, including the stunning new £275,000 three bedroom Elder house style at Bynack More in Aviemore by Tulloch Homes.
Whether you're searching for your dream new home, have recently purchased or are looking for simple tips and tricks to freshen up your existing space, Eileen's top four show home secrets will help you transform your home like a professional.
1. Embrace colour
One of Eileen's top pieces of advice is to be bold with colour. She says: "We've seen a real shift in attitudes post-pandemic with many clients shunning the previously popular trend of greys, monochromes, and minimalistic styles in favour of bright bold colours that inject personality and warmth into your home. Colourful interiors don't have to mean every wall is inundated with clashing patterns. Instead, you could add a pop of colour through accessories but keep the rest simple to create a stylish effect. Alternatively, when opting for a bold wall colour, let the paint do the talking and keep other décor to a minimum for a more polished, show home look. For those that are nervous of committing to a bold colourful look, remember that paint is the easiest and most effective way to quickly makeover a space so if you do change your mind in a few years, you can simply transform your home in a weekend!"
This tip has been put into practise into the new Tulloch show home in Aviemore with the dark wood panelling contrasting with the cool sage green walls in the living room creating a contemporary and welcoming space to relax.
2. Design continuity
Eileen says: "Something show homes do flawlessly that many homeowners struggle with is design continuity. The interiors of your home should create a sense of unison, with common threads of design and styling connecting the spaces together. Coordination is a vital aspect of show home interior design, as creating a seamless flow throughout the house ensures the journey for any prospective buyers is calm and harmonious. However, this doesn't mean that the house should feel repetitive, rather that there's a connection between rooms. In the Elder show home, we used accents of colour to tie the rooms together with pops of summer-y yellow and earthy greens and blues in the artwork, accessories, and wall colours. A mood board is the perfect tool to make sure that your vision for each room ties in together."
3. Add artwork
"Artwork is an ideal addition to elevate a blank canvas in seconds, breathing life into a plain space", says Eileen. She continued: "It can act as a focal point in the room, set the mood for a room, bring in colour and texture and can add a chic finishing touch. Whether it's photographs, abstract art or landscape pieces, you don't need to spend a fortune as the most important aspect is that the piece you select speaks to you and your personality."
4. One space at a time
"It's always worth remembering that with a show home, you are seeing a finished product. In reality, no one decorates their whole house at one time," says Eileen. "I understand the excitement of moving into a new home and the sense of urgency that follows to bring your vision to life. My advice would be to take one space at a time and think about every element before moving onto the next. Often the kitchen can be a good place to start. If your new home has a white kitchen, this can lend itself to a brighter and cleaner design aesthetic throughout the house, whereas a darker kitchen works better with subtle and earthy tones. Spend some time in the spaces of your new home once you've moved in to truly get a sense of the style, colours and pieces of furniture that will work best," adds Eileen.
Putting her tips into practice at Bynack More, she said: "We've worked in partnership with Tulloch Homes for many years, so we have a really clear understanding of the brand. When it came to designing its newest show home, it was important that we created something warm and welcoming that would appeal to a broad range of customers.
"By creating individual identities for many of the rooms, this ensures that prospective buyers can truly visualise their future home. The Elder benefits from three spacious bedrooms but we wanted to showcase the fluidity of the spaces and how these could be modified for modern families who might chose to adapt a room to a home office or playroom.
"Show homes offer inspiration for colours, accessories, and furniture that people may look to replicate in their own home. With the Elder show home, we furnished the space using products from accessible brands such as Habitat and Dunelm and chose simple yet striking wallpapers, shapers and colours to create an effortless home that feels realistic to prospective buyers."
Find out more about our stunning Elder show home